The Whooping Crane Eastern Partnership (WCEP), of which the International Crane Foundation (ICF) is a founding member,
presently operates two projects to restore a migratory Whooping Crane population in the eastern USA.
The Ultralight-led Migration Project that began in 2001 utilizes eggs from captive breeding centers that are hatched at the Patuxent Wildlife Research Center in Maryland. The young cranes are later transferred to Wisconsin and trained to follow ultralight craft. After making their first migration to St. Marks National Wildlife Refuge on Florida's west coast, they find their way back to Wisconsin alone and continue to migrate back and forth unassisted.
A second method, called the Direct Autumn Release (DAR), was started in 2005. These cranes are raised by the ICF using attendants dressed in crane costumes. Kept from human contact, they are housed with adult Whooping Cranes to assure that they imprint properly. Before fledging, they are transferred to Wisconsin and finally to the release point at Horicon National Wildlife Refuge. They learn to fly south by following the older cranes. Radio and satellite telemetry allow them to be tracked by ICF and US Fish & Wildlife Service
As time for fall migration approached, eleven juvenile cranes in the 2012 cohort of captive-raised Whooping Cranes were released to the wild. Five followed an ultralight craft. The other six were part of the DAR program and were permitted to find their way south without assistance. Among them was a female Crane Number 13 who was given the name of Tussock.

The five juveniles led by the ultralight arrived at the St. Marks National Wildlife Refuge in Wakulla County, Florida, on 23 November.

The six free-flying DAR cranes, numbered 12 through 17, are identified by the arrangement of colored bands and transmitters on their left and right legs respectively.
Five of the six, including Tussock,
migrated south in record time. According to WCEP, they departed from the Horicon National Wildlife Refuge in Wisconsin on 31 October. Satellite information indicated roost locations in Lawrence County, Indiana, on 31 October, then in Chester County, South Carolina, on 2 and 3 November where all five were also visually confirmed. Next they were located at Cape Romain National Wildlife Refuge, Charleston County, South Carolina, on 4 November, and in Glynn County, Georgia on 5 November.
Remarkably, they had flown about 1200 miles unassisted, from Wisconsin to Clay County, Florida in only six days, arriving by 6 November. They moved to Manatee County, Florida, on 7 November and into Everglades National Park, Monroe County, Florida, on 8 November and back northward into Hendry County, Florida, on 9 November.

Crane #13 had been fitted with both a satellite transmitter and a second short-range transmitter. She and a juvenile male #15 named Cypress seemed more adventurous and satellites then tracked their flight another 70 miles southeast to the birding patch adjacent to our home in Broward County in South Florida, where they arrived around 22 December, 2012.
We learned all the above details only after our fateful encounter, which began on
Satu
rday, January 5, 2013. My friend and neighbor Scott, who regularly walks in our local South Florida birding patch, Tweeted me with a photo of a white crane taken by his daughter, at the northern end of the patch. I was surprised to see that it was a juvenile Whooping Crane. The eBird data base contains no historical records of Whooping Crane sightings in either Broward County or Miami-Dade. (Photo © 2013 Scott McPherran, used with permission).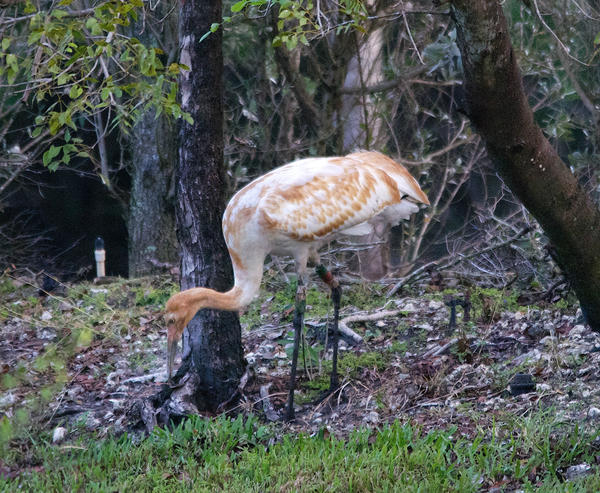 The bird was adjacent to a wetland where groups of off-road vehicle drivers assemble on weekend nights and conduct races. They often drive into the posted wetlands and routinely remove the "No Trespassing" signs. The bird seemed very tame and permitted close approach. This concerned me and since I had obligations that kept me from going out into the patch, I posted the sighting on the Tropical Audubon Society Bird Board with a request that someone come out to monitor and help protect the crane.
Several birders responded, and when they arrived at the site some of the off-road vehicle riders told them that they had been seeing two of the cranes in the area just north of our patch since December 22. They also said that the birds were very tame and permitted them to drive close by them.
The cranes initially occupied the northern City of Pembroke Pines section of the West Broward Water Conservation Area. Here the wetlands are well maintained and patrolled. During the summer of 2005 this exact spot had attracted a flock of over a dozen Greater Flamingos that presumably moved up from Snake Bight in the southern tip of Florida during the sustained southerly winds accompanying Hurricane Dennis.
The habitat is largely a wet prairie of mostly low-growing spikerush with areas of taller Sawgrass. It is bordered by dense stands of trees and shrubs-- including exotic Brazilian Pepper, Melaleuca and Australian Pine. This is the habitat initially favored by the cranes:
Below is one of the "alligator holes" in the undisturbed portion of the wetlands. The trees to the left are mostly closely-spaced Melaleuca.
Scott's photo was taken near this area of the same water conservation area in the City of Miramar that is not as well maintained. The dead trees are a Meleleuca stand that was treated with herbicide this past spring as part of preparation for a highway extension. Here is how it looked only six weeks ago when the water level was still rather high and kept the off-road vehicles from riding in the slough:
When the water levels decreased it was ravaged by the all-terrain vehicles. Note that the "No Trespassing" sign has been knocked over. The fresh tracks follow along a slough in which the cranes foraged:
The next morning we got out before sunrise and walked about a mile and a half, all the way north out of Miramar into Pembroke Pines. After taking a few steps across the city limits I sighted two white dots in a wet prairie about a half mile away. We had to detour along a city street to avoid entering private land, but sure enough, we found the two Whooping Cranes.
We learned from WCEP that Crane # 15, the one first photographed by my neighbor Scott is a male named Cypress. His band color pattern from top to bottom: left leg has a White/Green transmitter with antenna, and right leg has Green/Red/White bands. The transmitter sends out a short range signal that can be used locally to help find the bird:
The other is Crane # 13, a female named Tussock. Her band color pattern from top to bottom: left leg has a Red/White transmitter with antenna, and right leg has a White/Green transmitter with antenna. The second transmitter permits satellite tracking.
I hoped to personally document their presence in the Miramar section of our patch, so on Monday, January 7th I got out before sunrise and walked northward the entire length of the patch. No cranes! I hiked an additional three miles along several paths that border the wetlands and lake.
Not finding the cranes, I headed for home. Just after entering our patch I ran into another birder who was also searching for the cranes. I casually scanned the open areas with binoculars, and suddenly spotted one of the cranes. It was nearly a quarter of a mile away (actually 0.21 mile according to Google Earth), so my photo that documents the sighting is quite fuzzy. This is the male, #15:
As we continued south along the lake, the other birder saw a white speck on the opposite shore, about 0.43 mile away. He gets credit for providing me the opportunity to photograph the female in my own city of Miramar:
The cranes remained in our neighborhood for the next three weeks. Satellite tracking indicated that the female was spending some time inside the residential subdivisions adjacent to the wetland conservation area. I recorded this brief video clip:
Best viewed full-screen size.
On January 7th the female showed signs of injury to her right leg. She limped or hopped to avoid putting weight on it.
Photo of injured crane taken January 7 by Barry Heimlich © 2013, used with permission.
On January 25th the female was found in a residential neighborhood acting listless and mostly sitting down. The next day she
had to be captured and was transported to Disney World Animal Kingdom in Orlando, where she is being treated and rehabilitated for injury to her right foot, which was extremely swollen and most of the middle toe was dead. The injuries may have been caused by entanglement of some kind. She was reported to be doing well and if healing progresses she may soon be released back to the wild.
As of this writing, I have seen the male crane in our neighborhood almost every day. He divides his time between foraging in more remote areas of the wetland and forays into residential subdivisions.
I took this photo on January 31 as he flew overhead towards an adjacent housing development.
By the way, Whooping Cranes in this population are not "countable" for listing purposes as officially established in the American Birding Association (ABA) area. Of course, I like to watch pre-season exhibition football, basketball and baseball, and I enjoy the games even though they don't "count."
For more information, visit http://www.savingcranes.org/into-the-wild.html
Be sure to listen to the audio stream of this excellent RadioLab podcast "Raising Cranes" about the Patuxent research:
http://www.radiolab.org/blogs/radiolab-blog/2012/dec/03/operation-migration/