Last week, I had my first-of-year (foy) hummingbird. My son Kyle, spotted it before me, perched in a tree near the hummingbird feeder. I got to look at it for a minute through binoculars when it flew to the feeder, took a sip and then speed off. It was a female. Having seen Rufous Hummingbirds in May in Idaho, I thought nothing of the sighting until entering it into eBird and it set off the trigger to confirm my sighting. As it turns out, Rufous Hummingbirds in Utah in Spring are not regulars. This struck me as odd, so I began to explore the eBird sightings maps and a whole new world of understanding appeared before my very eyes. Everything about this hummingbird migration is odd! It migrates so dramatically different than other birds. The series of animated maps below may help answer some questions, but it sure raises a heck of a lot of other questions too. You've just gotta check this out...
WINTER: So one would think that Rufous Hummingbirds all go to Mexico for the winter, right? Well, I wasn't too shocked to see that many Rufous Hummingbirds winter in the gulf coast states because I've read articles from hummingbird banders about this fairly recently discovered phenomenon. What does surprise me about their December quarters is how frequently they are reported in the mid-Atlantic areas. By February, Rufous Hummingbirds have moved up the west coast and I am assuming that those on the east coast have moved down into Texas, while Mexican wintering Rufous are coming back up north into Texas or the west coast.
SPRING: March through May has the Rufous Hummingbird moving strongly into the Pacific Northwest, even up into Alaska. By May, almost all the southeastern and Texas Rufous Hummers have moved west. Notice that there are very few sightings in Utah during this time; hence my report triggering the eBird filter.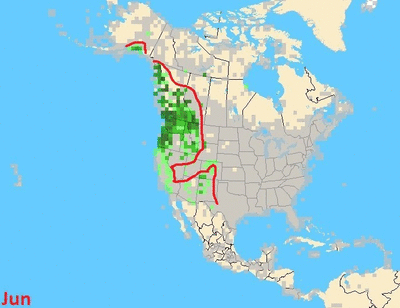 SUMMER: I assume the June is the nesting month, but I'm not 100%. During June, the Rufous Hummingbirds seem to have most of their presence in the Pacific Northwest, with a few strong populations in Colorado and the southwestern states. Then in July and August, things get really weird (at least from my perspective). There appears to be a southern dispersal across the entire intermountain west. Even in July and August, random sightings start to appear across the midwestern states, New England, and some southern states.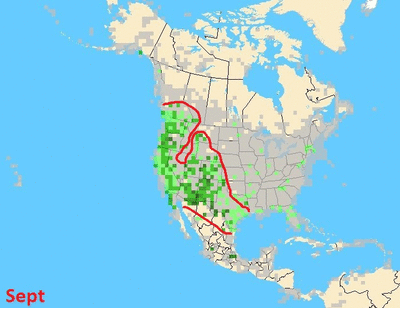 FALL: In September, there is still significant distribution across the intermountain west and still the random sightings east of the continental divide. In October, the Rufuos Hummingbird seems to almost nowhere, yet everywhere...as there are random reports across the whole country from eBirders in earnest. Perhaps at this point they're are so dispersed that birders rarely see and report them. By November, the Rufous Hummingbird is pushing hard back into Mexico, but also into the eastern states.
As eBird use in Mexico and across the world continues to increase, these maps will get better and better. It just amazes me to discover these migration patterns. That cute little Rufous Hummingbird is quite the traveler.
What other patterns can you see when you look at these maps? Please feel free to share your thoughts in the comments section.
If you are wondering how to make the animated maps, I use Picasion.com