Posted by Rich Steel
One of my favourite places to photograph birds in the UK are the Western Oakwoods of North Wales. These evocative woodlands, which are sadly becoming fragmented and disappearing, are special places filled with ancient twisted sessile oak trees. Mosses and lichens abound, thriving on the moist air driven in by the prevailing winds off the Atlantic. The time window for photography is brief and the key month to visit is May when the woods are brought to life by a trio of summer visiting migrant species: the Wood Warbler, Pied Flycatcher and Common Redstart.
For this first post I will detail the joys of trying to photograph the beautiful Wood Warbler. Sadly this is one of our species, like many that migrate to Africa for the winter, that has been in sharp decline in recent years. It has been estimated that between 1995 - 2008 the UK population has declined by around 61%. No doubt the main contributing factors have been habitat loss, hunting on migration routes across the Mediterranean and climate change.
From the outset let me point out this is a difficult species to photograph due to it preference for spending the majority of its time singing from the tree canopy. Light conditions for photography are always difficult with it constantly changing as it fleetingly breaks through gaps in the trees above. They are easy birds to locate by their distinctive and beautiful song which is an accelerating trill combined with three descending rather mournful notes. Their 'electric' song really brings the spring woodlands to life. A video of one in action can be seen here:
http://exposureroom.com/members/glennv/96595e0db15841309a1e95ec3ea82a1e/
Having located the bird the next problem for the photographer is getting to the level of the bird to take photographs as they are usually 30 to 40ft overhead. The site I visit is in a steeply sided valley and by climbing up a series of rock terraces I am able to position myself level with the canopy and the birds.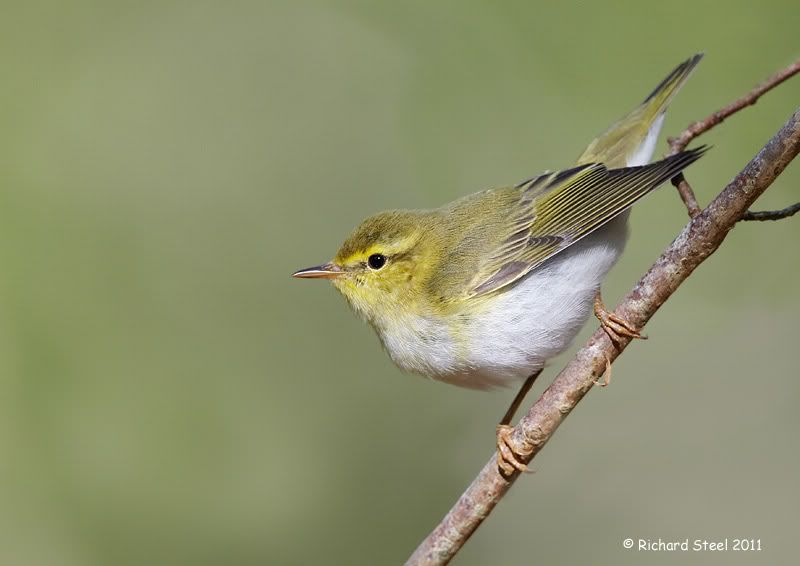 The next step is to look for their song perches, as the Wood Warbler will use the same perches repeatedly to pronounce their temporary territory. It is then just a case of waiting by a perch for the bird to appear. Sounds simple in theory!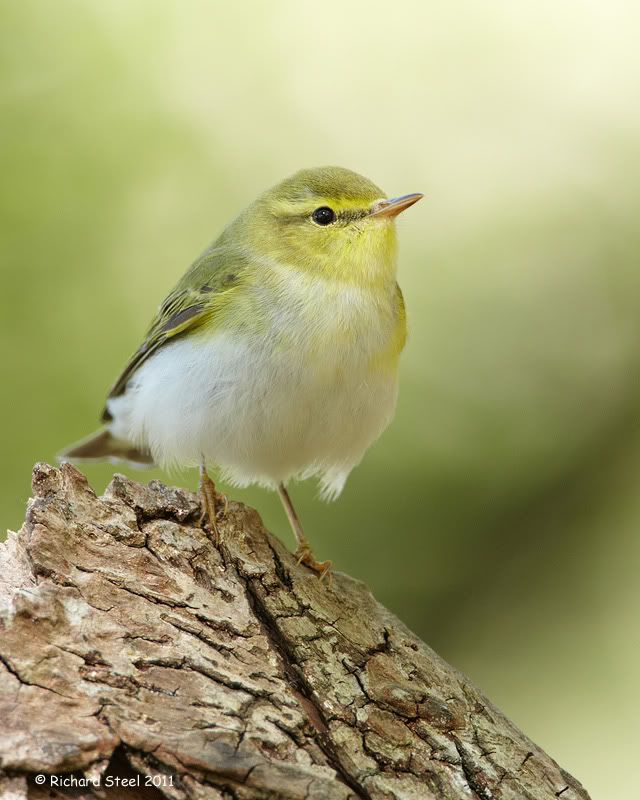 I love the colour of these birds with their pale green backs, lemon throats and clear white belly feathers. Combined with their stunning song they are just a superb little bird and a real joy to photograph. Spending a day at close range to these birds is an unforgettable experience.
I will finish this post with one last image of my favourite view of Wood Warbler, head back in full song, lighting up the darkness of the woodland landscape.
I will continue my journey through the spring Western Oakwoods in my next post with the Pied Flycacther.